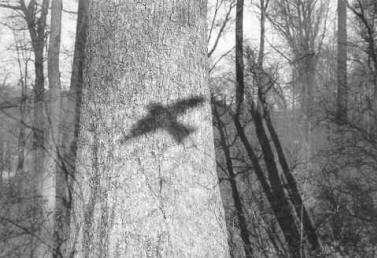 Annals of Earth
Volume XX1, Number 2, 2003
Melancholy Awareness:
The Photography of Barbara Roux
Long Island artist Barbara Roux is a nature photographer with a unique eye and a haunting style. She herself partially attributes her singular way of seeing to the fact that her eccentric parents refused to have a car when she was growing up. Walking was the only mode of transportation available to her as a teenager and she saw nature, in her words, close up. For her this created an odd tension. Like other nature photographers, she was captivated by the beauty before her but, in her case, it also created a certain ambivalence. She felt, she says, like an outsider. After studying at Old Westbury College and doing graduate work at Hunter College, she apprenticed herself to an ethnobotanist and spent several years collecting plant and seed samples in southern Africa.
Barbara Roux has exhibited in New York City, New England and throughout the county and abroad. The Islip Art Museum has a number of pieces in their permanent collection. Janet Goleas, who is the curator for the permanent collection there describes her as "part biographer, part observer, part hunter. Roux's photographic process," she writes, "is an act of meditation in which the artist marries her desire to protect the secrets of the wilds with her need to possess it. The process is long, each image a result of strenuous installation procedures, long exposures, and complex manipulations of the earth itself. In their finished state, the images present a sense of sight as opposed to memory, and so there exists a visual pragmatism in her photography. She performs no darkroom manipulation or visual pyrotechnics and although these images are saturated with the raw beauty of American wilderness, they do not orbit about a concept of the picturesque."
As her work has evolved, Barbara Roux explored a number of paths for creating a bridge between human sensibilities and the apparent otherness of the natural world. Her images are elegiac in that she is saddened by the harm we have done to that world and she continually seeks the connections that might change the way we respond to the environments we inhabit but rarely truly see. She has written of her work.
"Plants invade, butterflies deceive but all wild nature has an elegance that should be honored. In the thick forest, slow growing and sapling trees often never have a chance to reach their potential. Yet, they work on to produce leaves and stems like their tall, great neighbors. I have seen swallowtail butterflies sit for minutes on a leaf of a crowded out choke cherry and pass by a flowering phlox. I wish I could hold back the branches of huge oaks to let light fall on the small trees beneath them so these cherry and locust saplings will reach the sun and bloom like clouds and later fruit. I can't. Instead, I try to create a dialogue between people and the silent underdogs of the forest to still this melancholy awareness that I can't change the laws of nature."
We are grateful to former Ocean Arks staffer Amanda Ludlow for bringing Barbara Roux's work to our attention.
NJT